JUNETEENTH IN KENT, WA.
At the June 19th, 2012 Kent City Council Meeting, a Proclamation was issued emphasizing the significance of the Juneteenth celebration in African American history and in the heritage of the nation and the city of Kent.  This was a historical event as Gwen Allen Carston, Executive Director of the Kent Black Action Commission, accepted the proclamation along with other KBAC members.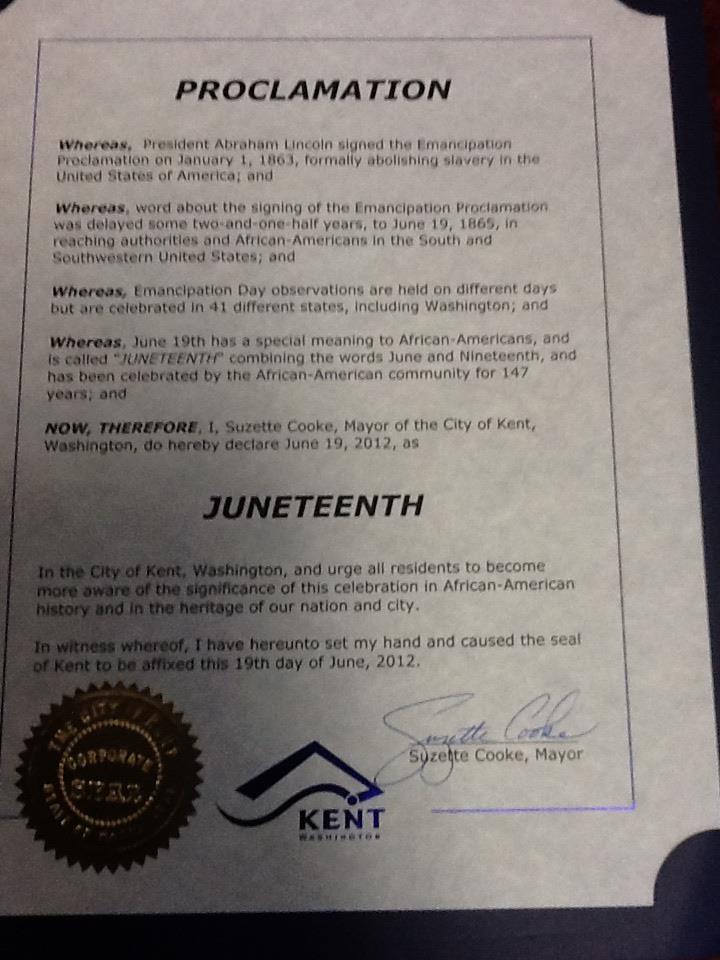 Kent's first Juneteenth celebration was held as a family reunion picnic style event on June 24, 2012 at the Kent Senior Center.
The event was a success with vendors offering everything from stylish jewelry and accessories to delectable cupcakes, poetic literature, and fine art while the youth enjoyed face painting and games on the lawn.  The main stage featured a reading of the Proclamation, a rapping preacher, story-telling, singing, dancing and more.  Visitors attended a presentation titled A Case of Identify Theft which posed the question of, "What should African Americans call ourselves," and raised some very enriching dialog.  The food was amazing and everyone had a great time.  The important thing is that everyone learned about the origin and history of Juneteenth.
Excitement is building for the 2014 Juneteenth Celebration which is scheduled for June 21, 2014 from 10-8pm at Morrill Meadows Park on East Hill in Kent.   There will be fun and learning for everyone to enjoy.  Best of all, the event is free for everyone in the community!  Mark it on your calendar now, but keep checking back on this website and our Facebook page for more updates as the event gets closer. Be sure to tell all of your family and friends.  We look forward to seeing you there!
A. Q.
Why is it important that we celebrate Juneteenth?
It signifies the ability of our nation to evolve from its past and push forward into a bright and prosperous future for all.  By celebrating Juneteenth we heal as a nation through acknowledging the painful reality of our past.
Is Juneteenth only an African American celebration?
Absolutely not!  Although Juneteenth is a celebration of the freedom of the end of slavery in the United States, that is a cause for celebration by EVERY American citizen.  Observance of Juneteenth provides an opportunity for African Americans to share our history and culture with our community at large.  We invite people of all races, cultures, and ethnicities to share in the celebration.
How can I get involved?
If you are interested in helping with the Juneteenth planning please contact Linda Sweezer at or Gwen Allen-Carston at gallencarston@gmail or attend our next KBAC Action Up meeting. Details of KBAC meetings can be found on our meetings tab.  This is a great activity for students who are in need of community service hours.  If you or your organization are interested in partnering with us in sponsoring this event please contact us.
Thank you for your attendance and support for all of our JUNETEENTH Events, since 2012!  This years event was truly one to remember!! We enjoyed everyone who came out to share and participate in our program for the day and ALL of our youth who represented WELL. We are looking forward to bigger and better things for 2015.  It's an ANNUAL happening, now for us, so we must continue to strive for excellence in our presentations.