Kent Black Action Commission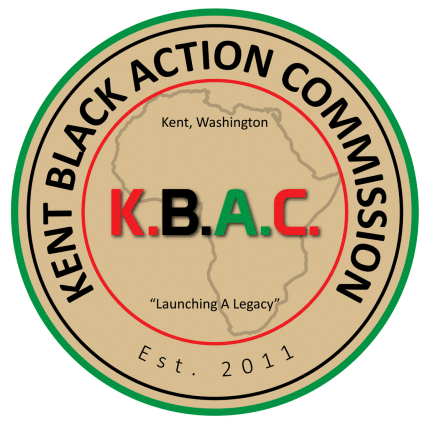 Vision
Our vision is that the Kent Black Action Commission is highly successful in implementing its overall work plan and as a result the City of Kent and all of South King County will be held up as a bright beacon of accomplishment in the areas of social and economic justice. And the Black community, as well as the community-at-large is reaping the benefits of an improved quality of life that takes full advantage of the richness of our diversity.
Mission Statement
We are the Kent Black Action Commission (KBAC) and our mission is to improve and promote the social, economic, political, spiritual and educational conditions of the Black Community in Kent, Washington and the South King County area.
Goals
Education – Increase parent engagement, eliminate the disparity in school discipline, improve conflict resolution, and close the opportunity gap
Cultural Awareness – become the conduit for two-way learning across cultures, and be an ambassador for African American culture and traditions.
Economic Development – provide a platform for small business development, promote and support existing businesses, and examine future business opportunities for our own non-profit.
Civic Engagement and Political Awareness – engage with the Mayor, Police, and City Council, host candidate forums, conduct voter registration, and host trips to Olympia, WA for Black Legislative Days.
Launching A Legacy
We develop our values, our By-Laws, and all that pertains to our make-up as an entity with a Legacy to leave behind for our children's children for days and years to come…we are commissioned to do so. And, our first official community meeting was called launching a legacy and it has become or motto.